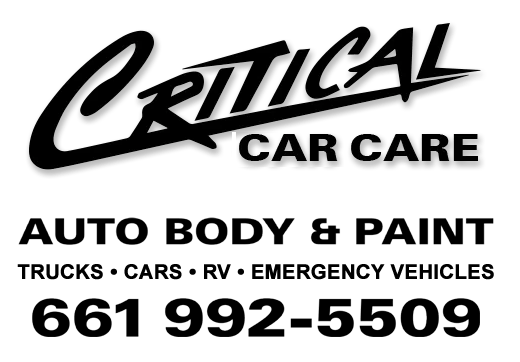 "...we are not your average body shop we do a lot here that other people probably don't want to do. We've worked on school buses, the B-2 model for Northrop, and model plane signage, Ambulances, Firetrucks, Motorcycles, even Jet skis!
Dave can do just about anything, he's very impressive.
"
Call Dave 661 992.5509
INSURANCE CLAIMS: California Law states that no insurance company can require you to get your repairs from a specific shop. YOU HAVE A CHOICE. Choose Critical Car Care.
From Our Auto Body Repair Blog:
Check out some of the "Before & After" collision repair pictures.
Classic Auto Body Repair:
Check out some of the Classic Car projects we've worked on.
Accidents Happen. We Can Help.

 
Critical Car Care is located at;
42615 8th Street W., Lancaster, California 93534
Free Computerized Estimate!
Call 661 992-5509