For our customer, driving her 2003 Ford Thunderbird takes her back to a simpler time as she cruises comfortably down the road in style. Getting those stares as she drive to work, the rumbling of that engine at the stoplight and the conversations that start up at every fuel station. You don?t see many of these bad boys on the road anymore. The other vehicle was a total loss. The Thunderbird survived due to its high strength steel frame.
A Rare Retro Repaired
Critical Car Care replaced the hood, bumper, fender, and head light. Parts were really hard to source due to the rarity and age of the vehicle. It was definitely worth the wait and she?s looking and running as good as new. Critical Car Care and our customer would like to say a huge thanks to Hagerty Insurance Co for their cooperation to get this car fixed up and back on the road.
Call us at 661 992-5509 for a video-call inspection – visit our website to schedule an appointment for a Free Computerized Estimate…
We are located at 42615 8th Street W. Lancaster, California 93534
Custom Auto Body Restoration & Paint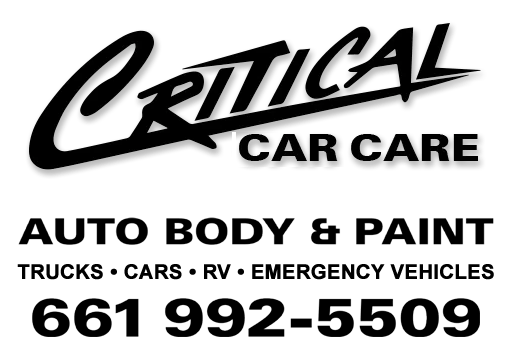 Visit CriticalCarCare.com