I want to dedicate this blog to a special young lady who came into the shop a few months back. We attended Quartz Hill High School together and she used to work at the Scramblez restaurant next door to our shop. We also happen to share the same birthday and she has the sweetest Daddy who likes to call everyone "kid."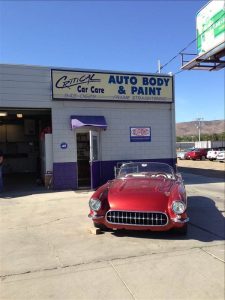 After years of getting to know them, (sometimes it was a visit to our shop due to an auto accident) we stayed in touch from time to time. Her mother was diagnosed with cancer and sadly lost her battle to cancer. This was a very difficult time for them both. There was nothing anyone could say to make it all better and take away their pain, but this young lady wanted to keep her mother's spirit alive. She has so much love for both her parents, and in honor of her mother she wears the color purple. It's a constant reminder that she will always be with her. Not only does she wear purple shirts, but purple everything! I absolutely love this about her. Every time I see her I think about the profound love she has for her mom. It is so nice to see that such an amazing bond still lives between a daughter and mother.
Now let me tell you, I never personally met her mom, but I feel like I did with all the wonderful stories she shares and the continuous Purple Power! Recently she had a little string of bad luck and had to come visit me here at Critical Car Care. Her brand new Jeep was not looking so pretty! So while it was here I couldn?t paint the entire Jeep purple, but I wanted to give it a little touch of her mom. So I asked her if I could custom paint her Jeep emblems purple, front and back. She said yes, and picked out the perfect shade of purple. We were all so excited here at the shop. So we painted the emblems purple and left the chrome outline to give it a little pop. When she picked up the car she couldn?t wait to have the entire car turned into a purple jeep. One day girl, one day?
I want to share this story because we truly do have amazing customers, and pay it forward to someone who has seriously touched my heart even though she probably has no idea she did. Thank you KID!
Love,
Kajla

---
Critical Car Care centers
We provide custom auto body repair work, full service painting and frame and suspension repair. Critical Car Care centers are your collision and restoration experts. We provided a full array of automotive and RV services for your vehicle. Family owned we have generations of auto body repair experience featuring state-of-the-art automotive repair technology to serve you.
Call us to get a FREE COMPUTERIZED REPAIR ESTIMATE for your auto repair or restoration.
Two locations to serve you:
Saturdays by appointment only.
Quartz Hill
661 943.0629
5022 Columbia Way Quartz Hill, CA 93536
Lancaster
661 945.5400
42615 8th St W. Lancaster, CA 93534