Northrop Grumman Custom Signage Restoration
This is a model plane of the B-2 Stealth Bomber used by the United States Air Force. The model is signage and sits outside the Northrop Grumman facility here in the Antelope Valley. After numerous years of display, Critical Car Care was asked to restore the model to its full potential.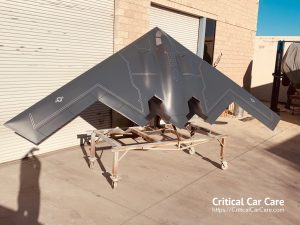 Original emblems
Size to scale
Fiberglass body
Hot Rod black paint
weighs over 1000 lbs
30ft wingspan
B2 is a model plane that Northrop uses out front of their facility. We had to paint the outline of panels on top replace emblem or decals paint the windshield area with exact patterns as the real one.
Our company painted the outlines of panels to the same measurements as the full-size aircraft. Original emblems and decals were applied to design specifications. The windshield area was modeled and painted to ensure accurate representation. The fiberglass body required exceptional care to ensure that repairs were seamless.
We painted the model with Hot Rod Black paint by PPG with a UV additive to add long term protection.
This was a completely custom project, and the bracket and stands used for the repairs are original manufactured parts by Critical Car Care. This model is MASSIVE. It took considerable effort to remove the plane from our transport. The B-2 model weighs a little over 1000 lbs and has a wingspan of over 30ft.
Call us at 661 992-5509 for a video-call inspection – visit our website to schedule an appointment for a Free Computerized Estimate…
We are located at 42615 8th Street W. Lancaster, California 93534
Custom Auto Body Restoration & Paint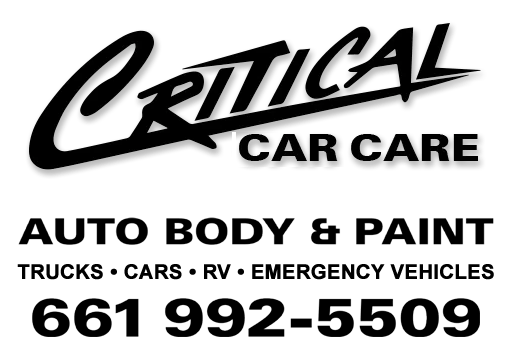 Visit CriticalCarCare.com
We have the RV Parts store for you!
With over 20,000 RV parts and accessories, we have the parts you need for your recreational vehicle. Shop online and save on complete product lines and parts such as Dometic & Suburban furnaces and water heaters, Thetford toilets and portapotties, Carefree awning fabric, and all of the RV towing accessories with replacement lighting and brake controls. Visit RV Parts Store