Tips for Making Your Car or RV Safe and Comfy for Road Trips with the Family
Before you pack up the car and hit the road for a spring or summer trip with the family, it?s important that you make some key preparations. A few things you don?t want happening on your mighty road trip: your car breaks down, you get stranded, your kids act up, or you?re not prepared to deal with a crisis with an elderly traveler. If you take the time to plan, however, you can ensure that your road trip is the thing of great memories instead of regrets. Here are some tips.
Make special preparations for traveling with the elderly
Yes, Nana and Grandpop can enjoy road trips just as much as the younger crowd, but there may be some special preparations you need to make if you plan on taking a road trip with the grandparents.
Try packing a special ?grandparents box? for the road and make sure you keep it accessible at all times. Pack it full of items your elderly parents may require while on the road – important medications, a blanket, reading material and glasses, water for hydration, and snack (if they have a blood sugar issue). Older people with arthritis and other forms of chronic pain may want to bring extra cushion or pillows with them.
To that point, you may want to think about renting a larger car – an SUV or a van – if your car is small and you?re traveling with 4 or more people. Cramped riding conditions can be especially uncomfortable for the elderly. Check here for some more good tips on road travel with the elderly.
Keep your kids from causing a scene (or multiple scenes)
Taking a road trip with your kids is a great idea. It?s an experience you will never forget. There?s no need to paint it with too rosy of a brush, however. We all know that kids can make for a difficult road trip at times.
One way to make sure that your kids behave is to keep them occupied for as long as possible, and while we?d like to suggest a book, we do live in reality. A portable DVD player, an iPad, or even an old fashioned mp3 player with some headphones will help keep your children entertained and are must-haves for any road trip. Kids are better behaved when they are well fed, so bringing a bag of snacks for the road is always recommended. If you want to kick your road trip up a notch, try bringing a small cooler with cold snacks and drinks. Check here for more road trip essential packing items.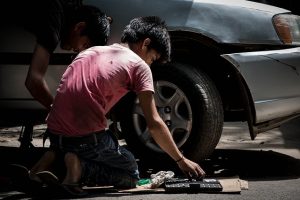 Make sure your car is up to the challenge
Road trips are hard on cars, so you need to make sure your car is in the best shape it can be to handle the abuse. If you haven?t rented a bigger car from the previous tip, take your car in for a tune-up/inspection if it?s been a while.
Critical Car Care can help you prepare your car or RV for long drives, click?to schedule service. Or if you want to just do it yourself, the essentials you need to check are as follows: engine oil, transmission fluid, antifreeze/coolant, radiator coolant, brake fluid, windshield washer fluid, and power steering fluid. These fluids are usually well-marked and easy to assess. You also need to check the battery, brake lights, headlights, and tire pressure. It may sound like a lot but it shouldn?t take you more than 20 minutes and that 20 minutes could save you hours and hours of trouble and hundreds of dollars of car repairs down the road.
Family road trips aren?t always easy, but they are well worth the effort. Take the time to prepare your car, physically, for the adventure and be comprehensive in your packing list so you have everything anyone might need along the way – no matter their age.
Guest Blog Post Author: Keith Jacobs
Photo Credit: Pixabay.com
---
Contact us to get a FREE COMPUTERIZED REPAIR ESTIMATE for your auto and RV repair or restoration.
Two locations to serve you:
Saturdays by appointment only.
[one_half]
Quartz Hill – 661 943.0629
5022 Columbia Way Quartz Hill, CA 93536[/one_half]
[one_half_last]
Lancaster – 661 945.5400
42615 8th St W. Lancaster, CA 93534[/one_half_last]
Visit www.CriticalCarCareInc.com